The only wear free machine in its class. 

Highest precision in the category. 

Aesthetic appeal that is unmatched.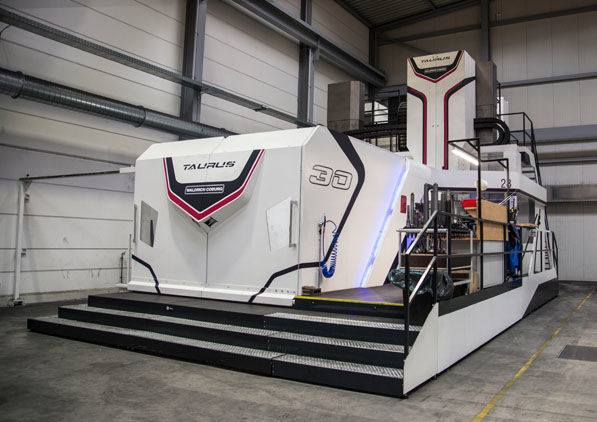 TAURUS - the ideal machining center for the following applications:
Steel Construction; frames, railway bogies, fixtures, housings
Gearboxes, turbine housings, pump housings, printing machine parts
Machine tool components; machine beds, saddles, spindle housings
Engine blocks, base frames
Tooling, aerospace & die components; fixtures, mandrels, form dies
Ideally suited for machining: steel, aluminum, titanium, cast iron, composites, all types of exotic alloys
and for Your application.




---
---
POWERFUL

• Spindle power 63 kW
• Robust design of cast iron
parts with hydrostatic
guideways
• Perfect size-/geometrical ratio
of the guideways
• Optimized drive concept for
best milling conditions
• Flexible spindle unit range for
all applications

PRECISE

• Frictionless guideways, no
stick-slip
• Stable machine geometry,
always possible to re-establish
by re-levelling
• Cast iron components and
hydrostatic design for stability
• High total system damping
characteristics
• Extremely high inherent
geometric accuracy to reduce
the need for electronic
compensation

WEAR FREE

• No wear hydrostatic, guideways
• Superior machine damping
characteristics improves tool life
and lowers spindle work load
• More tolerant to machine impacts
• High total system damping
characteristics
• Proven WALDRICH COBURG
technology in action
"We build machines the right way!"

No wear hydrostatic guideways

Superior machine damping characteristics improves tool life and lowers spindle work load

More tolerant to machine impacts

Proven WALDRICH COBURG technology in action
PORTAL

Major machine components made from high quality cast
iron provide superior damping characteristics. Castings
are constructed with thick walls and strong ribbing to
guarantee stability and rigidity. Stiffness and damping
are the basic criteria for high productivity and precision.
All guideways are true hydrostatic pump-per-pocket-design
with zero contact of sliding components. This results
in no wear, high dynamic stiffness, and smooth motion
for trouble free operation. Absolute measuring scales,
state of the art digital drives, and optimized mechanical
drive components allow for precise motion control.
MILLING HEAD

Sixteen hydrostatic pockets encapsulate the                      
TAUR-RAM creating tremendous stiffness and smooth
precise linear motion. The RAM has an integrated
C-axis with infinitely variable positioning. During
roughing operations the C-axis is clamped in position.
An optimization package refines the machining
of free-form surfaces.
 

HYDROSTATIC

The machining process is supported by the excellent       
damping properties of highly precise wear free hydrostatic
guideways. The temperature of the hydrostatic
oil is maintained based on the temperature of
the surrounding environment, allowing the machine
to maintain its accuracy even in changing ambient
conditions. Additional power consuming temperature
control devices can be eliminated. The machine remains
accurate even in an unfavorable environment.
DRIVES

The latest digital drive technology and absolute                
measuring systems enable energy-optimized operation
with high precision and low maintenance.
Energy recovery has been in use on WALDRICH COBURG
machines for decades. The space optimized
X-axis transmission is designed and built by WALDRICH
COBURG.
---
Energy efficient design to minimize operating costs.
Optimized ergonomics and innovative systems for interactive production support
Strategic initial investment, low operating costs, and high productivity result in the best price - performance ratio.
---
Technical Data
Infinitely variable positioning of the C-axis    +/- 200°
Power max.    63 kW
Torque    1.500 - 2.500 Nm
RPM max.    6.000 min-1
Feed rate X / Y / Z    30 m/min
Wear free Hydrostatic guideways in X / Y / Z / W  (20 years warranty, available as part of a maintenance contract)
Number of tool storage pockets     100
Number of storage places for spindle units     4
Load, max. (table/pallet)    40.000 / 25.000 kg
Industrie 4.0 ready
Available Controls: Heidenhain TNC 640, Siemens 840 Dsl
Options:

Twin pallet changer

Tool magazine extended to 200 tools

Production packages

In-process measurement

High pressure coolant system
TAURUS 25

Table:    2.000 x 4.000 mm
Clearance height (table/pallet):    2.000 / 1.700 mm
Clearance width:     2.500 mm
X / Y / Z:    5.000 / 3.500 / 1.500 mm
fixed crossrail

TAURUS 30

Table:    2.500 x 5.000 / 2.800 x 5.000 mm
Clearance height (table/pallet):    3.000 / 2.700 mm
Clearance width:     3.000 mm
X / Y / Z / W:    6.000 / 4.000 / 1.500 / 2.000 mm
NC-Querbalken:    2.000 mm
---
More info: