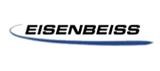 Eisenbeiss is a family-owned company with its headquarters in Enns, Austria that has developed into a world leader in special gear systems.
We have the specific know-how in the development, fabrication and supply of special gear systems for cranes in the steel and aluminium industry..
We offer products and solutions that meet the highest specifications for operational safety and reliability. We understand the extreme stress to which such gear systems are subjected. Impact, heat, aggressive dust and dirt require special gear system solutions.
---