COAT YOUR LARGE COMPONENTS IN A FLEXIBLE AND EFFICIENT WAY WITH OUR OPEN-SPACE PAINT SPRAYING SYSTEMS

Open-space paint spraying systems are one of our best-known and most flexible products. Compared to paint spraying booths, they do not require a closed housing thus providing a high degree of flexibility regarding the loading and manoeuvring of workpieces as those processes are performed with fork lift trucks or a hall crane here.
On request, we implement conveyor technique or application technique in your open-space paint spraying system.
In addition, we deliver ventilation components and other equipment for paint mixing or paint storage rooms.
Innovative ventilation concept with long-range nozzles – the open-space paint spraying system
The quantity and movement of air required for norm compliant paint spraying on an open-space paint spraying system is guaranteed by our long-range nozzles. Their use makes it possible to precisely direct filtered and heated air to the current working area from heights of up to 20 metres. Overspray and solvents are captured within the floor area and supplied to the filter units through the extraction system in the floor or lateral ducts.
Open-space paint spraying systems with sectional ventilation systems lower your operating costs
Thanks to the following characteristics large energy saving effects can be realized with our open-space paint spraying systems: Being equipped with a sectional ventilation unit the required quantity of air and also the required thermal energy can be reduced massively. The control is performed via different systems like manual switches, cameras or wireless.
Advantages of open-space paint spraying systems at a glance:

very flexible handling of workpieces with fork lift truck or hall crane
automatic and sectional control of fresh air and exhaust aur and consequently significant savings of energy
accesible floor area thanks to heavy-duty impact separators or gratings
can be installed even in very high workshop halls (up to 20 m height)
quick cleaning by quick-clean system
long lifetime of filters thanks to two-sate separating system and therefore less maintenance costs
Examples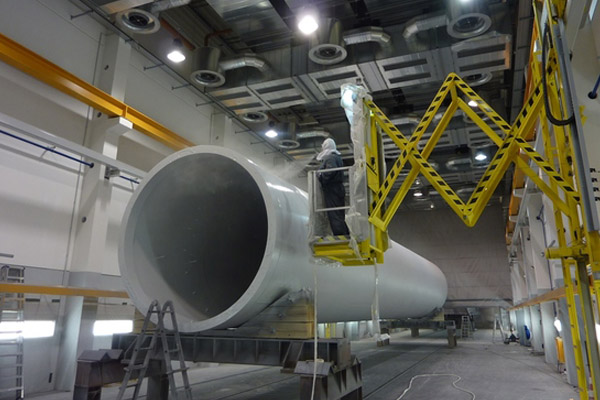 Open-space paint spraying system with lifting platforms for wind power towers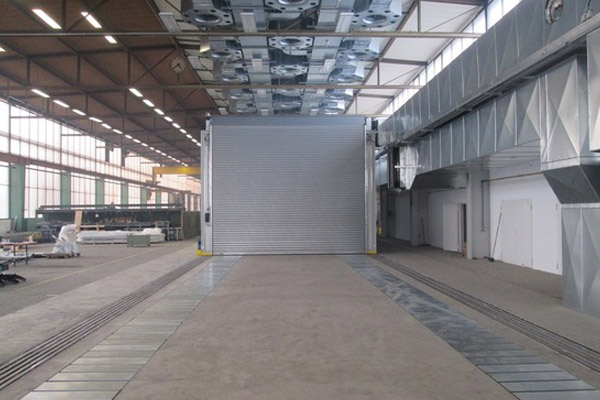 Open-space paint spraying system with double floor suction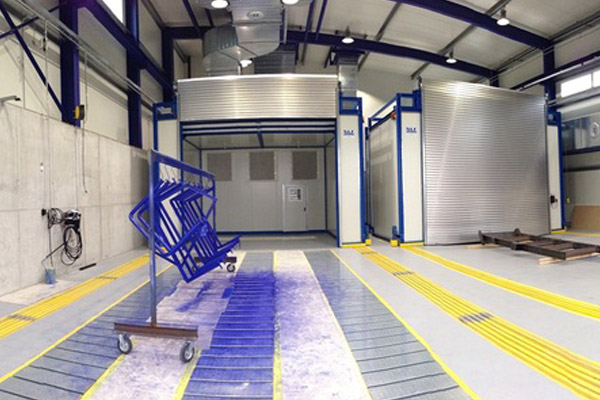 Open-space paint spraying system with telescopic dryer