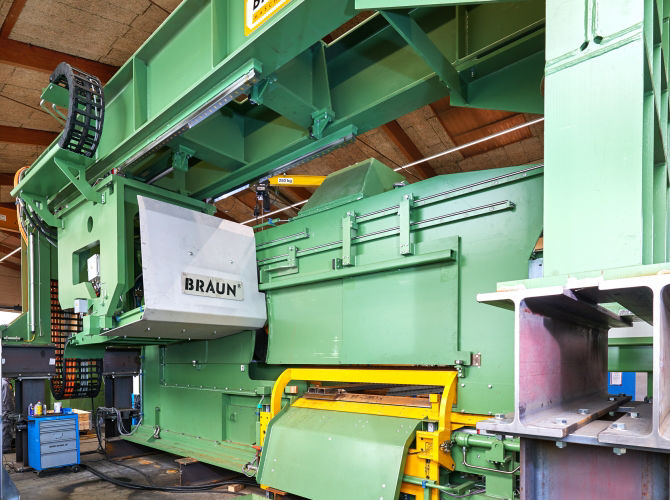 Model TSFS Series
The best of both worlds - ONE machine for TWO very different applications.
Many rolling mills produce both special (e.g, SBQ) bars AND merchant quality bars and profiles for simpler applications (e.g., rebar and structural steel profiles). The special products require the clean, precise, essentially burr-free cuts that can only be delivered by a high-quality abrasive cut-off machine. By contrast, a simple cold shear or friction saw could meet the quality requirements for the lower value-added products. For these mills the BRAUN Model TSFS is the one answer to both requirements - high quality abrasive cuts for special quality products and low cost saw cutting for everything else.
Benefits of the BRAUN Convertible Abrasive Cut-Off / Hot Friction Saw
Reduced floor space and equipment costs by combining dry abrasive cutting and wet friction sawing in one machine
Combined advantages of dry cutting and friction cutting (lower cutting costs and easy chip recycling for merchant bar, rebar, steel profiles, etc. where cut quality is less important)
Flexibility - the Model TSFS can be quickly converted between dry abrasive cutting and wet friction sawing modes. Moreover, the abrasive saw can cut materials at any temperature - hot, warm, or cold.
Excellent chip removal and saw blade longevity through targeted high-pressure coolant application to the friction saw blade
Superior cut quality and productivity supported by BRAUN's special vibration isolating and damping machine design
Reliable productivity and toughness delivered by the powerful cutting head drive motor and super heavy-duty gearbox
Easy cleaning and minimal swarf adhesion with the generous, application-specific sparkbox to control swarf, dust, chips, etc.
Machine Models
Model TSFS 10 F: Traversing machine with abrasive dry cutting wheel / friction wet saw blade diameter 1000 mm (40"), for layers up to 1300 mm (51") wide
Model TSFS 12 F: Traversing machine with abrasive dry cutting wheel / friction wet saw blade diameter 1250 mm / 1300 mm (49" - 51"), for layers up to 1300 mm (51") wide
Model TSFS 16 F: Traversing machine with abrasive dry cutting wheel / friction wet saw blade diameter 1600 mm (63") , for layers up to 1300 mm (51") wide
Model TSFS 12 FP: Traversing gantry machine with abrasive dry cutting wheel / friction wet saw blade diameter 1250 mm / 1300 mm (49" - 51"), for layers from 1300 mm (51") to approx. 2500 mm (98") wide
Model TSFS 16 FP: Traversing gantry machine with abrasive dry cutting wheel / friction wet saw blade diameter 1600 mm (63"), for layers from 1300 mm (51") to approx. 2500 mm (98") wide